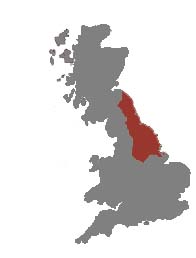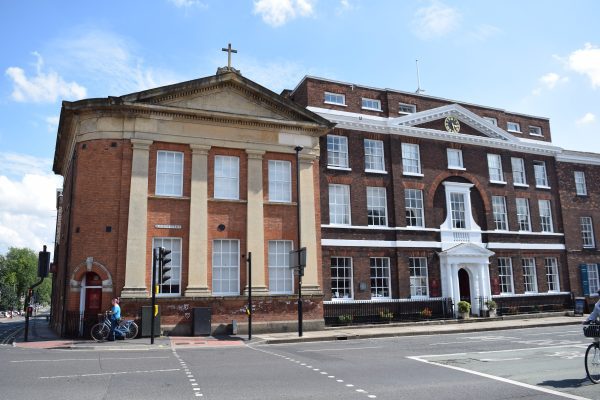 We meet on designated Saturdays from 2:00 – 4:00pm at the Bedingfield Room, The Bar Convent, 17-19 Blossom Street, York, YO24 1AQ.
All are welcome — no charge.
Refreshments: A donation of £3 is requested for refreshments in the interval. Please let us know on arrival if you require refreshments.
Branch Contact:
Paul Grafton
Fair Winds
Parsons Green
Wetherby
LS22 6RQ
Telephone: 01937 583723
Directions to The Bar Convent, York
To find the Bar Convent:
The historically significant and architecturally notable Bar Convent is a five-minute walk from York Railway Station; at the station exit turn right onto Queen Street, follow the road round to the traffic lights, cross the road, turn right and the Bar Convent is immediately on your left.
Park and ride buses from Askham Bar (White Line, No 3 service) stop outside the Everyman cinema; this is across the road from our venue.
There is a pay-and-display car park close to the Bar Convent on Nunnery Lane – SATNAV YO23 1AA.
Branch Newsletter
To view or save a copy of the Yorkshire & North East Branch Newsletter, download the relevant pdf file by clicking on the appropriate link below.
(note: to close the pdf file after viewing it, use the back arrow on your browser to avoid inadvertently exiting from the website):
Saturday 26 November 2022 – Paul Kampen (Horn Player and Committee Member) on 'Barbirolli in Yorkshire'
An examination of how Sir John Barbirolli revived musical life in Leeds, a decade before he did the same for Manchester, though his conductorship of the Northern Philharmonic Orchestra.
Programme for 2023
All meetings commence at 2.00pm
21 January (Commencing with the AGM) Paul Grafton. Elgar as I (almost) knew him. Paul Grafton takes a light-hearted look at Elgar's personal life, helping us to understand the moods and motivations which underscored the periods of his greatest activity.
One of Elgar's three surviving great-niece/nephews, Paul is a long-standing member of the YNE Branch (and prior to that the Yorkshire Branch) and has served as branch Speaker Secretary and as Hon. Secretary. He has also played a wider role in the Elgar Society as a whole, as Trustee and Council member.
 25 February. Simon Lindley. Elgar's Latin Church Music. An illustrated talk, based on Donald Hunt's edition. Dr Simon Lindley is Leeds City Organist Emeritus and Organist Emeritus of Leeds Minster, a choral director and composer. He is the grandson of Emile Cammaerts and great-grandson of Marie Brema, both of whom had a significant connection with Elgar.
25 March. Open Forum. My Favourite Elgar. In a different type of meeting from the usual, and a new venture for our branch, members will discuss a particular piece, explain its personal significance, and play a recording.
29 April. Edward Clark. Elgar and Sibelius. A comparison of the early works based on historical stories/sagas composed by Elgar and Sibelius in the last years of the nineteenth century. Edward Clark is President of the United Kingdom Sibelius Society and author of Sibelius Reflections. He is the recipient of the Sibelius Medal and was appointed Knight of the Order of the Lion of Finland.
20 May. Howard Rogerson. Elgar in Morecambe. An examination of Elgar's involvement with the Morecambe Music Festival, which he attended even at the peak of his international career. As a clarinettist, Howard Rogerson is a former member of the Orchestra of Opera North and an acive chamber music player. Howard is now resident in Morecambe, where he established a ligh music orchestra and gives frequent talks.
24 June. Maurice Powell. Elgar on the Isle of Man. An examination of the island's rich musical heritage and Elgar's contribution to it. Maurice Powell is a horn player and pianist. Now a resident of the Isle of Man, he has researched extensively into its musical history and connections with Elgar.
23 September. Richard Westwood-Brookes. The Symphonies – Elgar's entire life in two great works. Elgar's two completed symphonies are amongst his greatest achievements. Richard examines the background and context of each and compares and contrasts them. In particular, reasons for the initial audience receptions, tumultuous applause for the First, cool response to the Second, will be explored. Richard Westwood-Brookes is an experienced and very popular speaker, appearing regularly at Elgar Society branches and at The Firs. He is also the author of a study on Elgar and the press.
21 October. Alexis Paterson. The Three Choirs Festival. Elgar had a lifelong connection with the Three Choirs Festival, as a violinist in the orchestra in the early part of his career, as a composer and conductor, and as a promoter of other composers. Dr Alexis Paterson is Chief Executive of the Three Choirs Festival and brings a range of experience as an arts administrator.
11 November. York Cantores. Elgar and his Contemporaries. This concert of music for chamber choir with and without accompaniment will provide a rare opportunity to hear live performances of this neglected repertoire. Each piece will be introduced briefly. This will be York Cantores' first visit and promises to provide a fitting conclusion to our season.
Saturday November 9th – The Royal Hall in Harrogate
To help develop our branch, increase its membership an encourage attendance at meetings, Branch Chairman Professor David Young commissioned a 'pull up' banner which can be taken to performances of Elgar's music, and to other events as appropriate.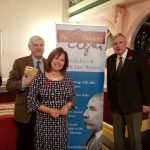 It was used for the first time on Saturday November 9th at the Royal Hall in Harrogate where the Harrogate Choral Society and the Amici Ensemble gave an all-Elgar programme conducted by Andrew Padmore. Dr Padmore will be the speaker for a future branch meeting.
Chris Wiltshire – Zoom
Chris Wiltshire is seen here addressing the Yorkshire and North East branch with the assistance of Zoom.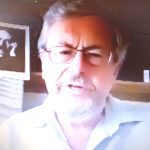 23 May 2020 – Reflections on a Landmark Event
On 23 May 2020, the Elgar Society Yorkshire & North East Branch put on its first ever on-line presentation.
The extended period of corona- induced lockdown appeared to have left us with the choice of either doing nothing or keeping up the interest by means of a presentation via a suitable on-line platform, which came in the form of Zoom, perhaps the best known of such devices for transmitting virtual meetings.
There were, of course, important considerations before going ahead. Would the technology hold up? Would the sound quality be satisfactory, not only in terms of the speaker but crucially the music extracts? Would our members feel sufficiently confident with the technology to 'attend' the meeting? What were the licencing requirements for transmitting music on-line?
Not least of all, we had to find a speaker who was prepared to engage with the project, and in this we were singularly fortunate in Christopher Wiltshire, and his topic 'Elgar as Remembered in Radio Interviews by Those who Knew Him'. Christopher had presented the first part of his talk in October 2017 and we were eagerly anticipating the joy of hearing more voices from the past from Chris's extensive collection of archive recordings, and so an on-line presentation seemed the only way of going ahead at the advertised date.
Two trial runs, during which our speaker heroically maintained his good humour and positive attitude, proved invaluable in uncovering various technical difficulties, such as the presenter's image and voice regularly freezing, and the music clips being at first inaudible. Part of the difficulty was marrying different platforms: Powerpoint, which brought together archival interviews, visual images, and music clips (many of them from old recordings conducted by Elgar), and Zoom.
All this was perfectly possible but required considerable technical guidance. Once again we were fortunate in that Anne-Marie Grafton gave of her expertise and guidance with such generosity, patience and good humour as to make the entire process, whilst not exactly relaxed, far less stressful than it would have otherwise been.
The meeting went ahead with the speaker, subject, and time exactly as advertised, with an 'attendance' of 31 members, friends and members of the Executive of the Elgar Society – in other words, pretty much like a regular branch meeting (including tea break half way through and questions at the end), but conducted from a distance. The consensus was that the event was a success, but not without a few technical hitches, which were overcome on the way.
Most importantly we experienced a fascinating delivery combining voices, images and music, by a presenter who has assembled an invaluable collection of archive material, much of which throws new light on our knowledge and understanding of a composer who continues to enrich and ennoble our lives.
The most important lessons to be learned from our experience are as follows:
Hold at least two trial runs to sort out the inevitable technical challenges; this is most important.
Ensure you have an expert in the technology to guide you
Look carefully into the licencing requirements for transmitting music on-line and any copyright images.
Make sure that the speaker uses suitable equipment – personal computer, laptop, or whatever, that the signal is adequate, and that the machine is not overloaded with data, for this will slow down the process.
Send out in advance easy to follow instructions on logging on to Zoom (or whatever platform) to the prospective attendees, and point out that sound quality may be improved by connecting the computer or laptop to speakers or wearing earphones, but this is by no means necessary.
Consider muting all attendees (except the speaker, of course!), for any sounds, whether a hoover in the background or a couple whispering whilst listening, will come across loud and clear – you can unmute at the end for questions – but seek the wishes of the speaker first.
David Young
Branch Chairman
November 24th 2018 – Dr Donald Hunt
On November 24th 2018 Dr Donald Hunt was to address the Yorkshire and North East branch meeting. Sadly that was not to be due to the death of Dr Hunt; but he had given Caroline Gilderdale a copy of the script which he had prepared; it was read for us by Dr Simon Lindley.
Caroline Gilderdale is seen here (left) conducting an ensemble comprising singers from the Yorkshire Bach Choir and York Cantores, performing a selection of Elgar's church music, edited by Donald Hunt. Simon Lindley (right) accompanies.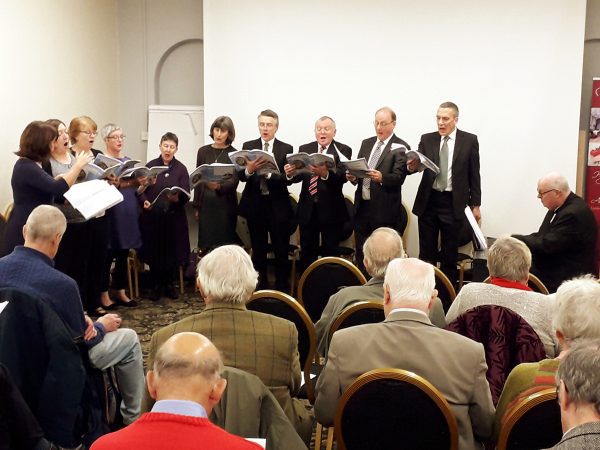 Saturday March 23rd 2019 – Rupert Marshall-Luck
Elgar had great respect and admiration for Hubert Parry – and publicly acknowledged the debt that he, in particular, and English music in general, owed to Parry.
The violinist Rupert Marshall-Luck has recently recorded a triple-disc set of Parry's complete music for violin and piano, and is also currently editing all Elgar's violin music.
From this perspective, on Saturday March 23rd, he gave a talk to the Yorkshire and North East branch which described and demonstrated the two composers' writing for violin; also revealing what their musical notations for the instrument can tell us of contemporary playing styles and characteristics.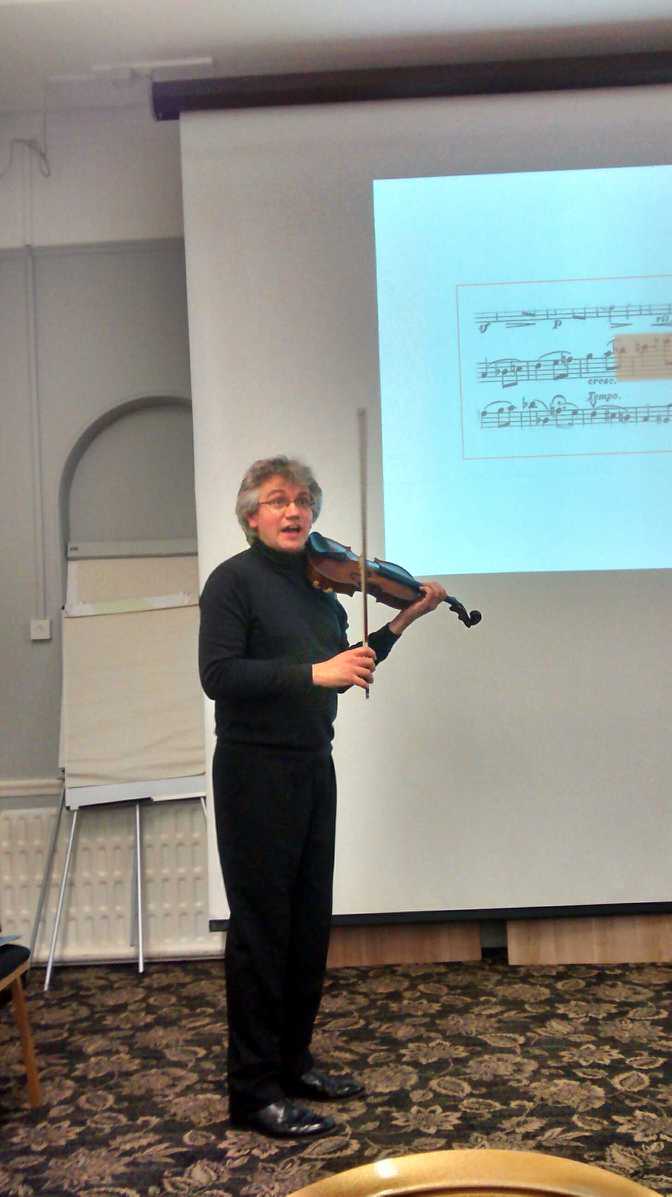 Saturday May 4th 2019 – Fairfax Ensemble
Our meeting on Saturday May 4th 2019 featured live music performed by the Fairfax Ensemble.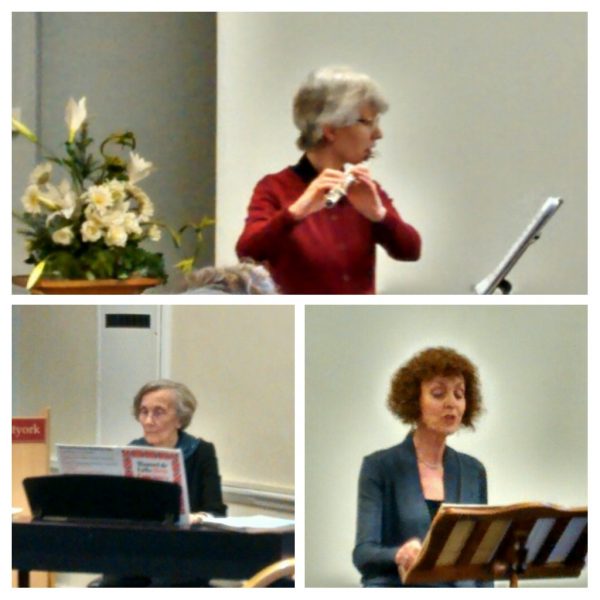 Photo collage by Caroline Gilderdale.
Saturday 25 May 2019 – Jonathan Clinch
Our meeting on 25th May 2019 featured Jonathan Clinch who spoke on Elgar and Herbert Howells.
Edward Elgar was one of the greatest influences on the young Herbert Howells and played an important practical role in his early career.
Howells in turn dedicated the middle movement of his Concerto for String Orchestra of 1938 jointly to the memory of Elgar and Howells' son Michael.
Jonathan offered new insights into the nature of their relationship. Dr Jonathan Clinch is an organist, musicologist and Lecturer in Academic Studies at The Royal Academy of Music.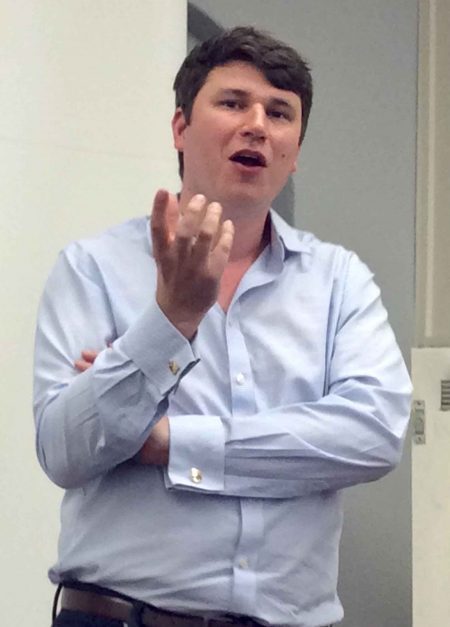 15th June 2019 – Rev. John Knowles spoke on Elgar, Liverpool and Malcolm Sargent
John investigated the early links between Liverpool and Elgar and between Sargent and Elgar, as an introduction to Sargent's Elgar performances with Liverpool Philharmonic Orchestra.
John is presently the Chairman of the North West Branch of the Elgar Society.
28th September 2019 – Daniel Grimley Unfolding Elgar's Sanguine Fan
Elgar's 1917 ballet The Sanguine Fan, is one of his most delightful but neglected scores. In his talk, Daniel argued that the Sanguine Fan in fact constituted a means of mediating the processes of mourning, memorialisation and loss that lay at the heart of Elgar's creative project during wartime.
Daniel is a Professor of Music at the University of Oxford, and Douglas Algar Tutorial fellow at Merton College.
26th October 2019 – Jonathan Wainwright Gerontius with MS notes on Elgar
A first-edition vocal score of The Dream of Gerontius (Novello, 1900) which once belonged to Elgar's early biographer Robert J. Buckley, contains numerous, previously unnoticed, annotations in the hand of Edward Elgar himself.
Jonathan examined the significance of some of Elgar's notes and annotations.
Jo Wainwright is Professor of Music at the University of York. He is a musicologist, conductor and performer.
23rd November 2019 – Andrew Neill The Pursuit of Grania and Diarmid
Andrew has been writing up CD notes on Grania and Diarmid as well as a forthcoming recording of Caractacus, and shared with us some of the highlights of his researches.
Andrew is a Vice-President of the Elgar Society, a member of its London Branch and a past Chairman of the Society ( 1992-2008) and has contributed to four books on Elgar' life and music.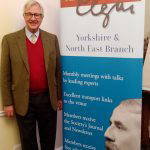 25th January 2020 – Branch AGM
The AGM was followed by a talk given by Branch Chairman Professor David Young entitled Reading The Music Makers.
After reading the poem, the score, and press reviews, one is left wondering why Elgar's The Music Makers at first met such a muted response.
David's talk included a specially prepared Listener's Analytical Guide and a complete recording conducted by Sir Adrian Boult and featuring Dame Janet Baker.
27th June 2020 – Stuart Freed, The Lighter Side of Elgar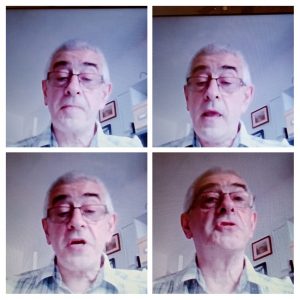 Saturday 31st October at 1.30pm: The Yorkshire & North-East Branch presented a talk by Peter Newble, followed by a Zoom discussion at 4.00.
Elgar's portrayal of Judas Iscariot in his oratorio, The Apostles, is perhaps his most heartfelt characterisation. In this illustrated talk, Peter Newble explored how Judas's portrayal in musical works has evolved over a period of nearly 500 years, and examined his role in The Apostles in more detail.
28th November 2020 – Prof. Bernard Porter
Our final meeting of 2020 featured a Zoom presentation by committee member Prof. Bernard Porter on 'Elgar, the North, and King Olaf', in which Bernard took a brilliant, multi-disciplinary approach, highlighting various strands of cultural history.
The talk was enjoyed not only by branch members but by the good number of guests who joined us from other branches, a characteristic of all four on-line meetings.
30th January 2021 – Branch AGM – held by Zoom
Our 2021 AGM was followed by a talk by Branch Treasurer Paul Kampen on preliminary findings which he has made on Sir John Barbirolli's time as Principal conductor of the Northern Philharmonic Orchestra in Leeds; this lasted from 1932 until Barbirolli (he was not 'Sir John then) went to New York in 1936.
The NPO was a professional orchestra whose membership comprised players whose daily work was in the various theatres and cafes in Leeds; it gave some 25 concerts per year and made many BBC broadcasts.
27th March 2021 – Steven Halls, Elgar's Chamber Music: From Shed to the World
17th April 2021 – David Owen Norris, Elgar and the Note A flat
Elgar Society Vice Chairman Stuart Freed writes: To those of us with limited academic schooling, music theory can be both dry and baffling.
Consequently, it takes a teacher of rare quality to bring into the light the sometimes labyrinthine complexity of music and its relationship with science, whilst holding the attention of an audience.
However, such was the case on Saturday, when David Owen Norris presented his talk on Elgar and the Note A flat, the latest in the series of virtual meetings presented by the Yorkshire and North East Branch.
If nothing else, it was worth hearing his explanation of the difference between A flat and G sharp.
26th June 2021 – Richard Westwood-Brookes, Elgar's Violin Concerto
22nd May 2021 – 'Elgar's Enigma: thoughts in season'
Julian Rushton published a short book on Elgar's Variations in 1999. Some autograph material has since resurfaced; and the number of proposed 'solutions' to the 'Enigma' has considerably increased.
Julian's talk did not propose a new solution, nor did it review these new ideas, whose propagation can safely be left to their authors; rather, Julian reviewed the question of whether there really is a question to be answered.
4th December 2021 – Tom Kelly, 'Beyond and Within Elgar's Enigma Variations'
22nd January 2021 (Commencing with the AGM) – Howard Gregg (Committee Member) on 'Elgar's Part Songs'
Elgar's part songs are highly regarded and reflect another aspect of his great musical gifts yet they are rarely heard.
Howard's talk looked at their place in Elgar's creative life and the context for which they were written. With musical examples.
26 March 2021 – Stuart Freed (Chairman of the Elgar Society) on 'Elgar and the Critical Ear' with particular reference to the Introduction and Allegro for Strings
In a light-hearted programme, Stuart guided us through 18 different recordings with the aim of choosing just one.
Our final choice was the English Chamber Orchestra conducted by Benjamin Britten!
26 March 2021 – Stuart Freed (Chairman of the Elgar Society) on 'Elgar and the Critical Ear' with particular reference to the Introduction and Allegro for Strings
In a light-hearted programme, Stuart guided us through 18 different recordings with the aim of choosing just one.
Our final choice was the English Chamber Orchestra conducted by Benjamin Britten!