Elgar: Complete Edition
The Elgar Complete Edition – Registered Charity No. 1086576
What is the Elgar: Complete Edition?
The first uniform academic edition, in 43 volumes, embracing the whole of Elgar's musical output. Launched by the music publisher Novello in 1981, the Complete Edition is now published by the Elgar Society Edition Ltd., an independent company run by leading members of the Elgar Society, in association with Bristol University's Centre for the History of Music in Britain, the Empire and the Commonwealth (CHOMBEC).
A description
The Elgar Complete Edition is a 43-volume uniform edition covering the whole of Elgar's musical output and is intended for both scholarly and practical use. The 43 volumes are divided into six series, with each series being presented as far as practicable in broadly chronological order.
Each volume is edited to the highest academic standard, using the widest possible range of source material and represents as far as possible Elgar's final thoughts on the works covered by the volume. A description of each of the known sources for the work and a critical commentary listing those editorial changes made which cannot be clearly represented in the score. Sketches and drafts of works unfinished by Elgar, together with significant rejected passages from completed works, are presented in appendices. Each volume also contains an editorial together with a selection of illustrations relevant to the volume. Working under the guidance of the General Editor, each volume is assigned to an editor appointed for his specific expertise in the music covered by the volume.
Volumes are published in a hardback binding in one of two page sizes – 350mm x 250mm or 432mm x 280mm – the larger size being reserved for orchestral or choral works employing a full orchestra. Some earlier volumes are available in a softback binding with black blocking. Matching vocal scores and orchestral parts can also be supplied from the scores of some works published in the Complete Edition (including a number of works from future volumes) by the Elgar Society Edition's sister company Elgar Works.
Looking to the future, the Elgar Society Edition is intent on developing a DVD version of the entire series with the aim of developing an edition which facilitates access and navigation for the research student and amateur enthusiast alike.
A short history
The announcement by Novello in 1981 that they were to embark on the publication of a comprehensive uniform edition of all of Elgar's published music was met with universal acclaim by Elgarians. The First Symphony and the The Dream of Gerontius, appeared in 1981-82 and over the next ten years, 12 further volumes were published. Regrettably, the publication of a series such as this is not a commercially attractive venture, and in 1993 Novello withdrew from the project.
On 4 June 2000 The Elgar Society decided to rise to the challenge of completing the set as the Elgar Society Edition. A trust was established, a board of directors appointed and an editorial board assembled to resume the task of editing future volumes.
Initially, volumes were commissioned from outside concerns, an arrangement that proved to be both complicated and slow. By early 2007 all aspects of the production and distribution process were conducted in house and two new volumes appeared in 2007, a third in August 2008, and a further ten volumes are now in preparation for publication by 2013. Sales also increased by 15% during 2007 and new fundraising methods were successfully trialled.
In addition to the production of new volumes, we must find a way of sustaining the availability of volumes originally published and still owned by Novello and now increasingly falling out of print.
How to Purchase from the
Complete Edition
How to Purchase
If you wish to purchase individual volumes of the Complete Edition, please contact John Norris – elgarworks@gmail.com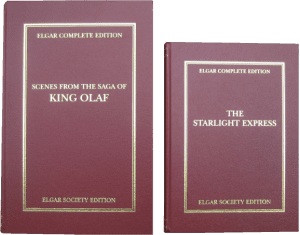 Sponsoring the Complete Edition
To offer volumes of the Complete Edition at prices which place them within the financial reach of all who might wish to purchase them, we are dependent on sponsorship to cover a proportion of their production costs. If you would like to contribute towards the production costs of the Edition, we offer a variety of sponsorship options.
General support for the Complete Edition
Any donation, however small, will help towards our dual aims of publishing the full Edition and making it available to as wide a readership as possible. All donors will receive a bookplate recording their contribution towards publication of the Edition; and if you donate £500 or more, you will receive a specifically worded bookplate for each volume you subsequently purchase.
For further details please contact John Norris – elgarworks@gmail.com
A volume-by-volume listing of the Complete Edition
The aim of the Elgar Complete Edition is to ensure that the entire Elgar oeuvre is represented in a scholarly addition that will benefit performers, academics and amateur musicians. The edition is divided into six series, each containing volumes relevant to the particular genre. The following is a complete listing of the edition together with the contents of each volume. Volumes appearing in bold have been published by either Novello or the Elgar Society Edition. Volumes in bold italic are planned for publication over the next five years. Other volumes are planned for future publication.
Click to view Volumes
• Vol. 1. The Early Cantatas: The Black Knight; The Banner of St. George
• Vol. 2. Accompanied Part-songs and Unison Songs: From the Bavarian Highlands; Pageant of Empire; etc
• Vol. 3. The Light of Life (Lux Christi) (1989)
• Vol. 4. Scenes from the Saga of King Olaf (2007)
• Vol. 5. Caractacus (1985)
• Vol. 6. The Dream of Gerontius (1982)
• Vol. 7. God save the King (arrangement); Coronation Ode
• Vol. 8. The Apostles (1983)
• Vol. 9. The Kingdom (1984)
• Vol. 10. The Music Makers; The Spirit of England (1986)
• Vol. 11. Sacred Music, with orchestra
• Vol. 12. Sacred Music, unaccompanied or with organ (Summer 2012)
• Vol. 13. Secular Part Songs and Unison songs
Series II: Solo Vocal Works
Click to view Volumes
• Vol. 14. Solo Songs, with orchestra
• Vol. 15. Solo Songs, with piano – 1
• Vol. 16. Solo Songs, with piano – 2 (2010)
Series III: Dramatic Works
Click to view Volumes
• Vol. 17. Grania and Diarmid; Arthur
• Vol. 18. The Crown of India (2005)
• Vol. 19. The Starlight Express (March 2010)
• Vol. 20. Carillon; Une Voix dans le Desert; Le Drapeau Belge; The Fringes of the Fleet
• Vol. 21. The Sanguine Fan; Beau Brummel (December 2011)
Series IV: Orchestral Works
Click to view Volumes
• Vol. 22. Music for Powick Asylum (2008)
• Vol. 23. Short Orchestral Works
• Vol. 24. Music for String Orchestra (2011)
• Vol. 25. Dream Children; The Wand of Youth Suites (2001)
• Vol. 26. Severn Suite; Nursery Suite
• Vol. 27. Variations on an Original Theme ("Enigma") (1986)
• Vol. 28. Overtures
• Vol. 29. Marches
• Vol. 30. Symphony No. 1 (1981)
• Vol. 31. Symphony No. 2 (1984)
• Vol. 32. The Concertos (1988)
• Vol. 33. Falstaff; Polonia (1992)
• Vol. 34. Orchestrations of Bach, Handel and Chopin
Series V: Instrumental Music
Click to view Volumes
• Vol. 35. Music for Piano
• Vol. 36. Music for Organ (1987)
• Vol. 37. Music for Violin (2007)
• Vol. 38. Chamber Music (1988)
• Vol. 39. Music for Wind Quintet
• Vol. 40. Severn Suite (Brass Band); Music for Various Ensembles
Series VI: Sketches and Fragments
• Vol. 41. The Spanish Lady (1991)
• Vol. 42. Piano Concerto, Symphony No 3
• Vol. 43. Miscellaneous Sketches
Our Most Recent Volume – Music for String Orchestra
The Elgar Society Edition Ltd is pleased to announce the publication of a further volume in the Elgar Complete Edition – Volume 24: Music for String Orchestra. The volume brings together four of Elgar's best-loved works:
The Enchanting Serenade for Strings
one of his earliest orchestral works: possibly deriving from an even earlier (1888) work for string orchestra, it was first performed by the Worcester Ladies' Orchestral Class in 1892 but did not receive its public première until 1896 in Antwerp and, in the UK, 1899 in New Brighton;
The Solemn Elegy
commissioned by Novello Chairman Alfred Littleton at the suggestion of the Worshipful Company of Musicians in response to the sudden, premature death of its Junior Warden Rev Robert Haddon in 1909: it was originally performed under the name Dirge, a title Elgar seemingly preferred despite heading the manuscript with the word by which the work is now known;
The Wistful, Haunting Sospiri
written on the outbreak of the First World War as a companion piece to Salut d'Amour and Carissima: rejected by its commissioning publisher Elkin for being too sombre, it was eventually published as a separate piece by Breitkopf & Hartel, firstly in a version for violin and piano and then in the arrangement for string orchestra, harp and optional harmonium which appears in this volume;
and The Exhilarating Introduction and Allegro for Strings
composed in 1905 to enable the string section of the then recently formed London Symphony Orchestra to show off their virtuosic skills: by far the most complex of the four pieces, his 'string thing' contains (in Elgar's own words) 'a devil of a fugue' and the 'Welsh tune', supposedly caught on the wind by Elgar across a bay in West Wales, but first sketched as the curious 'Pattern for a Bag Poet', published last Autumn in Vol.16.
Edited by Professor Emeritus Julian Rushton, the volume is dedicated to Sir Colin Davis in view of his own long association with the London Symphony Orchestra and in grateful recognition of his championing of the works of Elgar.
As usual, in addition to the four edited scores, the volume contains an Editorial Foreword, Source Description, Critical Commentary and Illustrations. The volume's Recommended Retail Price is £85 per copy and copies can be obtained through all good book stores and specialist music shops. But visitors to this website can purchase volumes at a special subscribers discount of 10% or even 25%. For details, visit the How to Purchase from the Complete Edition page.
Complete Edition Production Team
The Elgar Complete Edition is published by Elgar Society Edition Ltd, a Company limited by Guarantee (Registration Number: 04188073), a Registered Charity (No. 1086576) and a subsidiary of ElgarWorks (also a Company limited by Guarantee (Registration Number: 06040208). The board of ESE Ltd comprises the Company's five directors and two advisers – the General Editor and the Chief Originator:
Click to see Robert's Contributions
Robert Anderson studied Classics and Egyptology at Cambridge University and has since pursued careers as both an Egyptologist and musicologist. He has written numerous books and articles in both roles, notably the Dent Master Musicians series biography of Elgar, and was for eighteen years an associate editor of The Musical Times. This led to him becoming a co-ordinating editor of the Elgar Complete Edition in the 1980s and the editor of several volumes in the Edition. In 2006 he became Chairman of Elgar Works and in early 2007 of the Complete Edition, roles which he has since relinquished to Steven Halls following his emigration to Egypt, although he remains a Director of both organisations. He was also a Vice-President of the Elgar Society for many years. He has conducted extensively, notably with the St Bartholemew's Choral Society, and continues to work as a music critic and reviewer.
Click to see Frank's Contributions
Frank Beck is the Complete Edition's Sales Director and is also the Board's North American representative, being based in New York.
Click to see Steven's Contributions
Steven Halls became Chairman of the Complete Edition in November 2007 and of Elgar Works in October 2008, both in succession to Robert Anderson. In June 2008, he was also elected Chairman of the Elgar Society. Having studied Modern Languages at Oxford University, he subsequently gained a PhD in German and Music, an MBA, and an M.Phil in politics. Having been professionally involved in music promotion in the North of England and the Midlands from 1976, he has followed a career in local government from 1987, becoming Chief Executive of Three Rivers District Council, based in Rickmansworth, Herts in 2003.
One of Steven's passions is for chamber music, both as listener and performer. From 1970 to 1979 he studied the 'cello with Pauline Dunn in Harrogate and Suzanne Ramon in Paris, and has been directing, and performing in, chamber series in the Midlands for the last eleven years.
Click to see John's Contribution
John Norris, the Complete Edition's General Manager since 2003 and a member of the Elgar Society for over twenty years, first became actively involved in the promotion of Elgar's music in 1996 when he developed the elgar.org website. This led in 1999 to his formation and subsequent running of Elgar Enterprises, the Society's trading arm, and Elgar Editions, its publishing imprint and recording label. He became a member of the Society s Executive in 2000 as Commercial Development Officer, and in 2003 took early retirement from a career as a Civil Servant to enable him to devote more time to his Elgar interests. In 2006, he relinquished his Elgar Society responsibilities to become Chairman of Elgar Foundation Enterprises, the trading arm of the Elgar Birthplace Museum, and also to form ElgarWorks.
Click to see John's Contributions
John Pickard, the General Editor, is a Senior Lecturer in Music at the University of Bristol and a composer. In the latter role, he is best known for a series of powerful orchestral and instrumental works including four symphonies and a number of other orchestral works of symphonic dimensions. The Flight of Icarus, a BBC commission first performed in 1991 by the BBC National Orchestra of Wales and repeated by them at the 1996 BBC Proms, has recently been released on CD by BIS records in a recording project of John's orchestral music with the Norrk"ping Symphony Orchestra. He is also noted for his commitment to the brass band movement, serving as Composer-in-Residence to the renowned Buy as you View Cory Band, from 2001 until 2004 and composing the test piece for the finals of the 2005 National Brass Band Championship. John also lectures extensively, notably on Elgar's music.
Click to see Paul's Contribution
Paul Adrian Rooke is the Chief Originator of the Complete Edition. He has pursued a multi-faceted musical career since his retirement from the teaching profession in 2003. The conductor of the Hitchin Symphony Orchestra since 1985 and more recently of the Stevenage Male Voice Choir, Paul has two symphonies and a number of other significant compositions to his credit. In 2007, he produced performing editions of two Polonaises and three movements for piano trio left incomplete by Elgar and published in the Appendices to Vols.37 and 38 of the Complete Edition. In 2006, with John Norris, he was instrumental in the formation of ElgarWorks, an organisation which provides practical support to those wishing to put on performances of Elgar's lesser-known works, primarily through the provision of orchestral scores and instrumental parts derived from full scores published in the Complete Edition.
Click to see Anne's Contributions
Ann Vernau has been a member of the Elgar Society for over twenty years and edited the Society's News from 2002 until 2007, when she became the Company Secretary of both the Elgar Society Edition and Elgar Works. Away from the world of Elgar, she is a magistrate, the company secretary of the Three Rivers Museum of Local History, the secretary of the Rickmansworth Historical Society and a committee member of the Three Rivers Music Society.
Our Mission Statement
The Elgar Society Edition and its parent company Elgar Works are charities whose shared aim is to stimulate wider interest in the music of the composer Edward Elgar, and in particular in his less well known works.
The aim of the Elgar Society Edition is not only to publish further volumes in the Elgar Complete Edition but to:
Offer volumes on a variety of favourable terms which places them within financial reach of all who may wish to buy them;
Bring all volumes of the Complete Edition back into print, including those published by Novello prior to 1994 which are not currently available;
Develop an electronic version of volumes which takes advantage of the interactivity of the electronic medium to allow a greater appreciation of the music and to facilitate more detailed study by students with different knowledge bases;
Help stimulate performances of the music by making available though Elgar Works and the Elgar Birthplace matching scores and parts at economic prices.