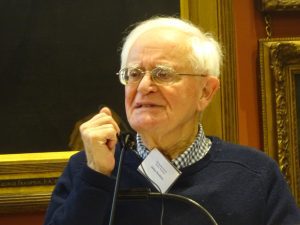 The Elgar Society is pleased to welcome Julian Rushton to its illustrious roster of Vice- Presidents. 
An academic and author, Julian Rushton has been a long-standing member of the Elgar Society and was for a number of years editor of the Society's Journal, a role that he filled with great distinction.  In a long career in higher education, Julian taught at the University of East Anglia and at Cambridge, where he held a fellowship at King's College from 1974 until 1981. He went on to take up an appointment as the West Riding Professor of Music at the University of Leeds, retiring in 2005. Julian has written on a wide range of musical subjects and was a contributing editor of the Elgar Society Complete Edition, for which he prepared Volume 24, Music for String Orchestra, and Volume 14, Solo Songs with Orchestra. For Cambridge University Press, he published a study of the "Enigma" variations and jointly edited the Cambridge Companion to Elgar, and Elgar Studies. 
The Chairman, Stuart Freed, welcomed Julian as the latest addition to the Society's list of Vice-Presidents, saying that the Society is delighted that he has agreed to accept this honour in recognition of his enormous contribution to Elgarian scholarship over many years.